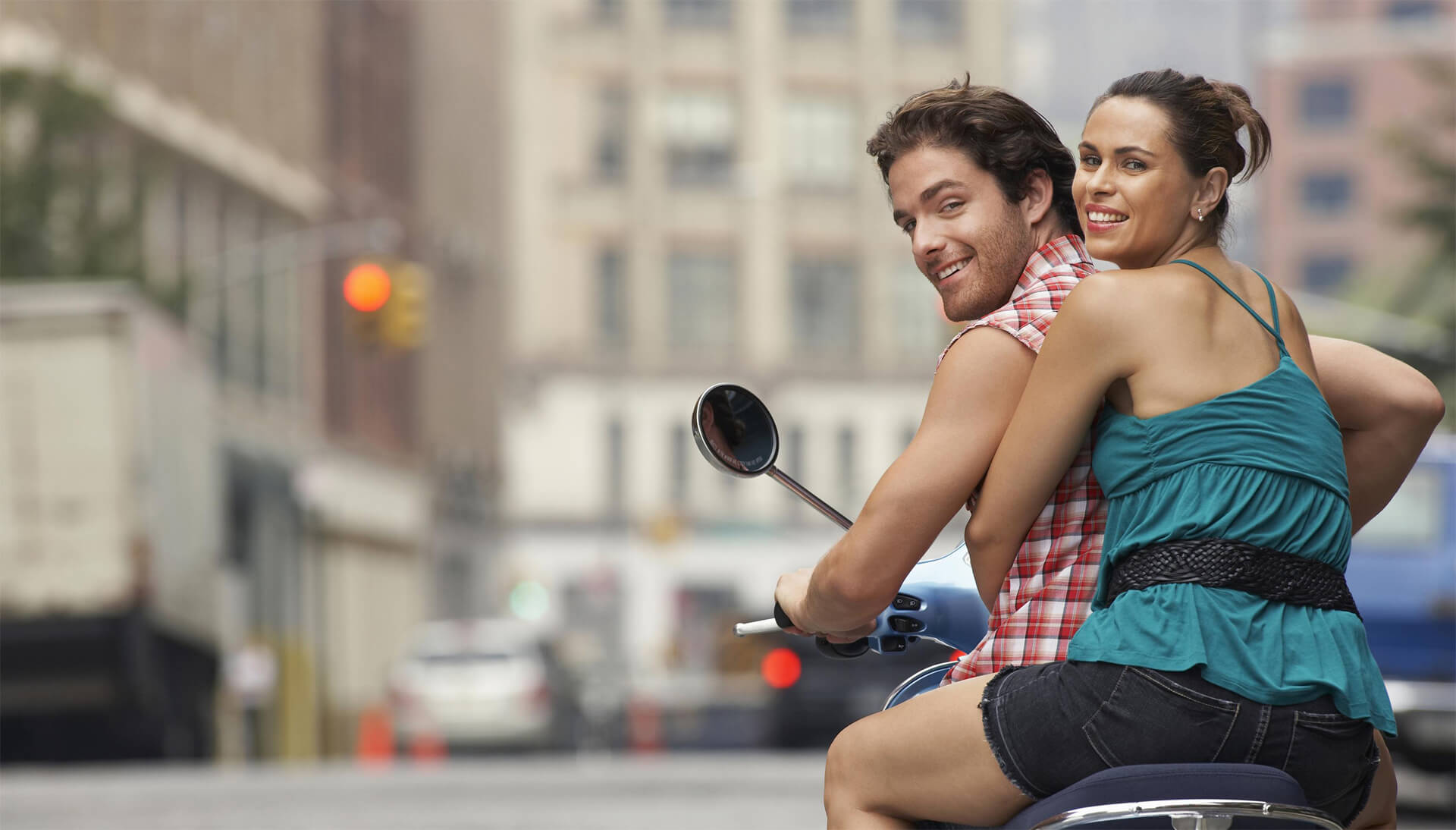 Moto Adamas is one of the most reliable moto rental offices on the island of Milos, with  professional staff, well maintained motos and customer-centric strategy. Our mission is to help our customers to discover the beauties of Milos island using a remarkable moto. 
We make a daily effort to show friendliness, immediate support and anything needed to our customers. Rent a moto from our agency and you can be sure about our excellent services. Explore beautiful Milos from on edge to the other.
Rent your moto in milos today!
We offer the best Moto rental services in Milos all year round in most affordable prices. Our agency delivers and pickup your rental vehicle in the Airport, port or your hotel in Milos.
We offer confidence and security to all our customers. All our vehicles are in excellent condition, clean and totally safe for a relaxing vacation in Milos. Every year, we renew our Motos in respect to our customers' requirements.
Premium Milos Moto Rental Services
On-line booking is also available on our website. Book you rental moto in Milos is just 3-easy steps. Our goal is continuous improvement of our services and by doing so investing in our clients' safety and satisfaction. 
By regularly servicing our vehicles and update our fleet and services, we have make stronger our position on the local moto rental market. If you want to rent a moto in Milos, you are in the right place!
Milos Motoadamas moto rental
Explore Milos at your own pace
Milos rent a moto services with many free amenities. Explore one of the most beautiful islands of Greece with one of our moto models.  Get unlimited kilometres in order to discover Milos from one edge to the other and many free amenities for your convenience.
Milos or Melos is a volcanic Greek island in the Aegean Sea, just north of the Sea of Crete. Milos is the southwesternmost island in the Cyclades group.  Milos is a popular tourist destination during the summer. The municipality of Milos also includes the uninhabited offshore islands of Antimilos and Akradies.  
How can I rent a moto in Milos?
You can rent a moto in Milos by:
Reserving by our online booking machine
Contacting us by phone
Contacting us by email
How can I pay for my rental moto in Milos?
For your rental moto in Milos, you are able to pay via the following methods:
Cash
Bank transfer
Credit Card
Paypal
Can we add a second driver for the moto?
Yes, the only requirements are that any additional driver must fulfill the terms and conditions of hire and that they must be declared before the hire period begins so as to be covered by the insurance.
Is international driving licence nessesary to rent a moto in Milos?
For citizens coming from USA, Canada, Australia and China the international permit is obligatory and required.
For all other, non-EU citizens, the international permit is optional.
Is there a minimum age for the driver who rents a moto in Milos?
To rent a moto in Milos from our agency, the minimum age is 21.
Can I extend the rental period of the moto I already have?
Yes, you can extend your moto rental in Milos, as long as we are informed as soon as possible, especially during high season, to secure the availability of the vehicle for the next days.
When I pick-up the moto will there be fuel in it?
Yes. Your only obligation is to ensure that when you return the moto it has the same amount of fuel as upon collection. If the moto is dropped off with less fuel the client will be charged with the difference. No refund will be given for returning the moto with more fuel that it was picked up.
Can I transfer the rented moto from Milos to another island?
No you cannot transport the hired moto from Milos to another island except Kimolos Island. You should be aware of the fact that during sea transport, the company does not cover you for damage or loss of the moto and in case of accident or breakdown in Kimolos, road assistance will be there delayed.
What do I have to do in case of a mechanical problem?
In the unfortunate event of a breakdown you should call us immediately and an experienced mechanic will be with you.
Our company offers 24/7 roadside assistance for your rental moto in Milos.
What equipment is given by renting a moto in Milos?
By reserving any moto by us, we provide to you 1 or 2 helmets.
We rent a scooter 125 cc. The staff was very welcoming, friendly and helpful. The scooter was pretty good and we payed a good price (20€ per day). I recommend.
We rented an ATV (Quad) Kymco 450CC for 5 days in august 2021. Really nice and fun vehicle to drive around Milos, perfectly adapted to the island !! The vehicle was almost new and well equiped. I really recommend this rental company.
the best moto we've ever rented on vacation! Very fast service, impeccable people, good prices. I recommend it to you
I have visited Milos twice and I have rented from Rent Moto Adamas, I have been very happy both times. Very helpful. The motorcycles are in very good condition. And very good prices. I highly recommend it !!